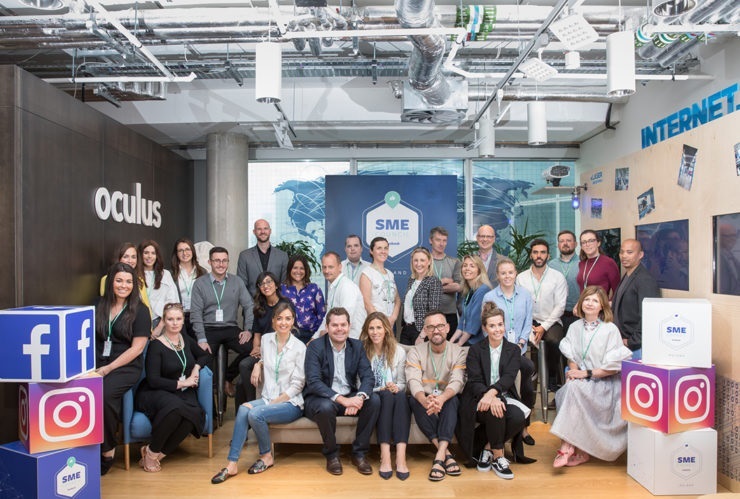 Wednesday the 19th of July was a very exciting day for Team Wellnice. After years or wondering what lay beyond the glass doors of Facebook HQ in Dublin, we were invited in! A few weeks back, we received an email from Facebook asking us if we'd be interested in joining their Irish SME client council. Of course, we jumped at the chance, despite admittedly not really knowing what it entailed (typical of us!). We had the date and the venue but that was it. When we received the next email with the details we were even more excited!! Facebook had booked us into The Marker Hotel and invited us to dinner at The Drury Buildings the night before the Council launch - well nice indeed!! As luck would have it though, we got tied up at work (making the ice pops for Tiger Street Eats) and missed the dinner. It was just before midnight when we arrived at the hotel and BJ got upgraded to a corner suite - swit swoo!! It's a shame we didn't get to enjoy it more, but we had to be at Facebook HQ for 8:30 am.

Now I don't know if any of you have ever been to the Facebook offices on Grand Canal, but they take security very seriously, and rightly so! Once we were checked in, we were treated to breakfast and introduced to the other attendees. 14 businesses had been invited - some were old friends, and others we're happy to say are new friends! As well as us there was Strong Roots, Boutique Bakes, Obeo, Magee, Kerrigan's Food for Fitness, The Burren Perfumery, Aran Sweater Market, Appassionata Flowers, Ronan Cullen Flooring, Lennon Courtney, Lifestyle Sports, Folkster and Jobbio.

Over the course of the day we had workshops from Facebook, and were asked to give them plenty of feedback on what they've got in the pipeline. We were told that Facebook treats feedback as a gift - that's pretty cool in our opinion. The whole day was really intensive but so valuable. We enjoyed tours of the offices, excellent food and got to try Oculus! When we were leaving, they even gave us all goody bags. Go Facebook! Megan the person responsible for the client council in the US was flown in for the day from San Francisco. In a strange turn of events, she knows one Irish person, Ciara, who just so happens to be BJ's cousin! Talk about feeding into the stereotype that all us Irish folk know each other! Read more about it here.